Single Loop Transom Mounted Arch for Inflatable with Equipment Platform
Model: Single loop with Equipment Platform
With the addition of the equipment platform, the Transom Mounted Arch allows installation of Law Enforcement or First Responder lighting or radar. Adjustable clamp assembly allows leveling of platform regardless of transom angle.
Product Details:
Transom Mounted Arch for Inflatables features proprietary telescoping design that allows adjustment to fit the transom of nearly any inflatable. It is built from a high strength welded frame of schedule 40 marine grade aluminum pipe nearly 2" in diameter and is finished in durable salt resistant bright clear anodizing. The Inflatable Arch has the appearance and strength of a custom welded unit when installed on your boat and includes four m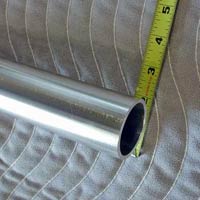 ounting plates (2 per side) which will accommodate antennas, navigation lights & other gear.
• Adjustable to fit transom of nearly any inflatable
• All hardware, backing plates & mounting bolts included
• TIG Welded Anodized Aluminum Pipe nearly 2" in Diameter
• Cables and Wiring run inside the frame
• Four transom mounting points
• Boxed for convenient delivery
The Single Loop Arch with optional all round white Navigation light allows a complete International Rule installation when combined with red/green side lights (not included.) installed on lower mounts.